---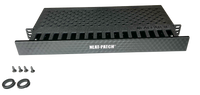 NP1 1U Cable Management Bay
Regular price $52.99 + FREE SHIPPING
Introducing the Neat-Patch NP1: The Compact Cable Management Solution for Tight Spaces
The Neat-Patch NP1 is the perfect solution when space is at a premium. As the 1U version of our popular NP2, it excels in situations where a 2U manager simply won't fit. Designed to maximize efficiency in tight spaces, the NP1 offers seamless cable organization while providing easy access and management.
With a maximum capacity of 24 cables, the NP1 ensures that even in constrained environments, you can achieve a clutter-free workspace. Say goodbye to tangled and disorganized cables with dedicated cable slots that securely hold each cable in place, making identification and maintenance a breeze.
The NP1 goes the extra mile by incorporating rear access in the corners, allowing for convenient rear vertical management. This thoughtful design feature ensures a complete cable management solution, even in the most challenging setups.
As a proud addition to our product line, the Neat-Patch NP1 exemplifies the same high-quality craftsmanship and attention to detail that Neat-Patch is renowned for. With its compact form factor and exceptional functionality, the NP1 delivers the perfect balance of space-saving design and efficient cable management.
Upgrade your cable organization and make the most of limited space with the Neat-Patch NP1. Experience the reliability, convenience, and versatility that make it an invaluable addition to our esteemed product lineup. Say goodbye to cable clutter and enjoy the benefits of a tidy, well-managed workspace with the Neat-Patch NP1.